I had been fancying lemon meringue pie for some time, like this..
lemon (yum!) meringue (yum!) pie (urrr.. pastry..) *repeat*
Working with the following constants, what has been deemed 'Best Lemon Meringue Pie Ever' and also 'How Pie SHOULD Be' was created.
Lemony goop is delicious
Meringue is delicious
The crispy outside of Meringue is the best bit
Pastry is a bit bum
Shortbread however, is yum!
..ginger and lemons is nice yes
Combining this here ginger shortbread recipe and this here lemon meringue pie recipe, I give you..
Teeny Tiny Lemon Meringue Pie(s) with Ginger Shortbread base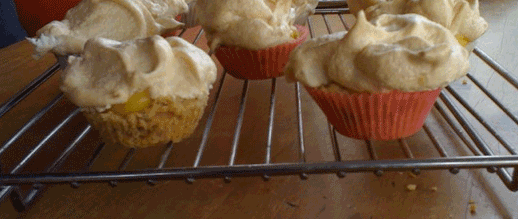 I made roughly half of each mix, which makes twelve teeny tiny pies, although it actually made eleven because I made the shortbread a little thick. It _would_ make twelve though.
Differenty bits and ordering changes to the recipes
I added a little more crystallised ginger and added no dried ginger to the shortbread, as the fresher taste and chewy texture of the root ginger was what I was after. I made up the shortbread mixture and smudged a blob flat then shaped it into each little fairy cake case. Leave the case in the tray when you are doing this or it will try and turn into an origami swan. Of course it's also important to try not to muck about with the shortbread too much or it will go greasy and heavy. Bake the shortbread as per the recipe, and start the lemon filling cooking towards the end of the cooking time – or the shortbread could be baked in advance.
Cooking the little pies for longer than stated (probably about 35-40 mins) will ensure a more crispy and meringuey outer, also making sure the meringue has lots of spikes on to go crispy.
Ignore the nonsense about leaving the pie to cool before cutting it and that – eating the pie when fresh from the oven, with the hot centre and warm outer is all kinds of awesome. They are great the next day as well, when the base becomes crispier and not all soggy like evil pastry can.
Win MAX.