Apparently this is not something I should do with my new ink; Noodler's Burma Road Brown. [citation needed]
Personally, I think brown is a perfectly respectable ink colour, and more importantly, it is an awesome colour for sketching..
A perfect time to try out my newly enbladderated vintage Waterman lever fill I obtained in a job lot on the ebat.  I managed to remove the old ossified bladder without too much incident and replaced it with a new one from www.penmuseum.co.uk.  Luckily, I did not yet shellac in the new bladder, as it splurted a big blob on my ferret's foot as I was doodling him (I think this might be because the bladder was too near the pen walls, and was warmed by my hand – I could be entirely wrong..).
TESTING. TESTING.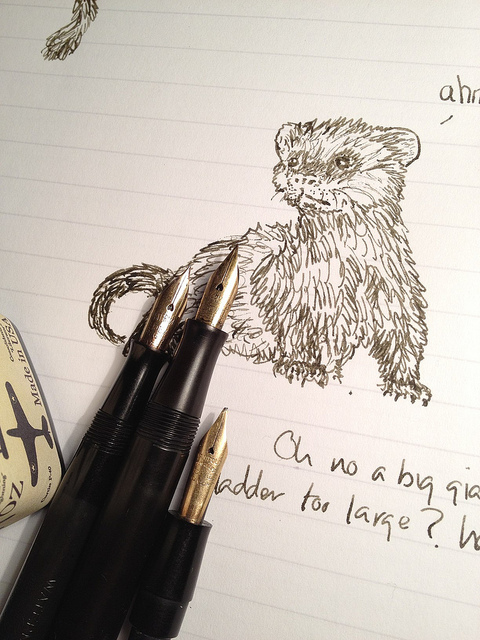 I might try diluting it slightly, to see if I can get some better colour graduation – and it does seem a little prone to clogging slightly if I am using light strokes.
I also have the Noodler's bulletproof black – the main point behind these two ink purchases is their relative water resistance, for ink and wash painting. Â Dip pen ink contains shellac, which is death to fountain pens, hence permanence in fountain pen ink is not by standard, very good.
Next: Pen, ink and wash!