Hijacked accounts and zombie computers are a significant threat to the grammar police all over the everywhere.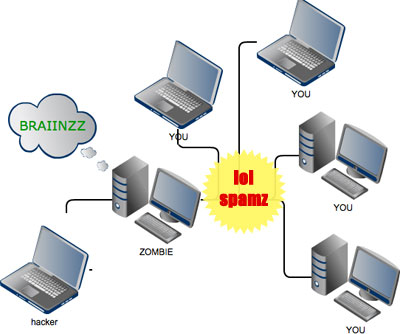 If someone sends you a link via some kind of chat medium, I suggest perhaps 'Are you a cheese?' as a call/response HUMANPERSON test. Â If they respond that they are indeed a cheese, or 'eeeeeeeeee', or 'what are you talking about you moron, have you even LOOKED at the hilarious kittens yet?' then they probably are a real person sending you nonsense of merely dubious provenance.
I make no guarantees.
INURCOMPUTER: what's up?
me: huh?
INURCOMPUTER: hahahaha, I'm in SHOCK right now..
me: are you an exciting virus? how exciting.
INURCOMPUTER: http://www.plep.com/rapingURcomputer – WOW use that real quick and tell me its not crazy..
me: oh I don't think so.
INURCOMPUTER: they are soooo right! lol what's it saying for you?
me: cheese spoon banana!
INURCOMPUTER: plz u have to tell me, fill it out..I have to know if your results were as crazy as mine lol
me: no thanks
INURCOMPUTER: ur missing out these songs are HOTT!!!
me: go away little virus bot.
INURCOMPUTER: no problem! PEACE!!
INURCOMPUTER: hey, are you still there?
(no.)
INURCOMPUTER: hey tiff, hope you had a great presidents day off yesterday!!
me: if I was one of them 'merkins I might have.
me: how are you?
INURCOMPUTER: I want you to try something real quick
me:bong bing spam bam
INURCOMPUTER: okay tiff, take this quiz and see what you score.. I can't get over like a 110, its ridiculous http://imnotreallyaquizhahaha.plep, sally scored like a 112 and I've been trying to beat them!!
me:what a cheeky little scammer you are
me:how rude
me:if I was a cheese what kind of cheese would I be?
INURCOMPUTER:lemme know what ya get plz
(no.)
INURCOMPUTER: hey, I just scored 112 on My IQ test, this is supposed to be really accurate. Tell me what you get http://BRAINZTEST.US
(no.)
INURCOMPUTER: hey there…
(no.)
INURCOMPUTER: hey cutie
(no.)
INURCOMPUTER: hey there…
(no.)
URLs have been obfuscated for the protection of the innocent/idiotic.